A couple of year's ago the opening keynote speaker at CES would normally be a pseudo tech celebrity at the helm of a well-known corporation like Microsoft or Hewlett Packard, however, this year's CES opening keynote came from Qualcomm CEO Paul Jacobs, a man your average tech enthusiast probably would recognise or have heard of. It's a stark example of how the tech landscape is changing under the sheer pressure of the explosion of post-PC mobile devices.
One company that has taken this new mobile world by storm has been Nvidia and their mobile Tegra chipset. The processor and GPU has found its way into some of the world's best selling Android devices, whether it's phones or tablets, over the years and 2013 looks like it could be company's the best year yet.
Before the crowds descended on Las Vegas, Nvidia held a CES pre-show press conference to showcase their latest Tegra 4 chipset. While there might not be any devices running the new chipset as yet, the Tegra 4 is brand-new quad-core processor, which comes with a whopping 72 graphic processing cores and based on the cortex A15 chip.
Billed by Nvidia as the world's fastest mobile processor, the Tegra 4 is expected to be lightning fast and will shrink the gap between traditional PC-based hardware acceleration and mobile graphics capabilities.
The chip comes with a new computational photography engine that makes taking photos even quicker, and the new engine will be built into the chip itself meaning all devices using the Tegra 4 will benefit.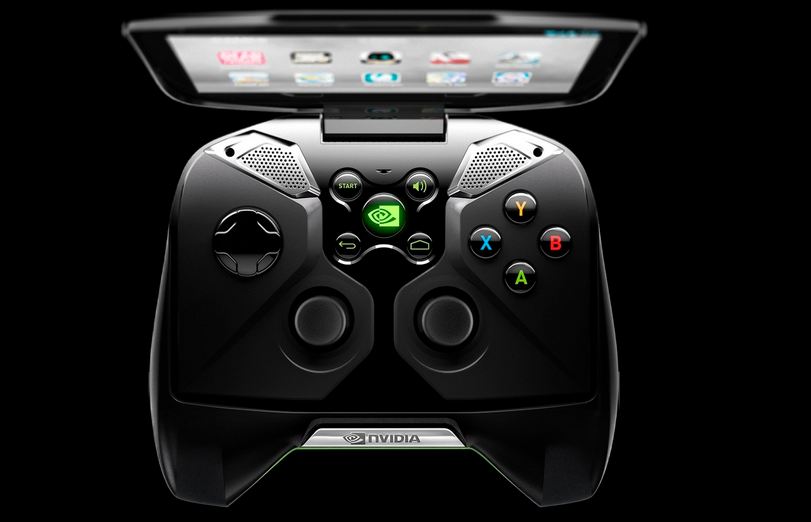 At the moment we'll just have to wait patiently until the first Tegra 4-based devices arrive, but according to Nvidia it won't be that long as the company is also making its hardware debut at this year's CES with an Android-based handheld console running the new Tegra 4 chipset, called Project Shield.
Not to be confused with the classic cop show of the same name, the Shield will apparently be the first device to run the newly announced Tegra 4 chip. Essentially, the new handheld is a Xbox 360-style gamepad controller with a 5-inch OLED touchscreen attached and while it's not going to win any design awards it does look a lot more ergonomic than a Nintendo DS or PS Vita.
You'll find a D-pad, two analog sticks, four front facing buttons, 2 shoulder buttons, dual stereo speakers and all the other features and functions you'd find on a modern-day console controller. The display has been confirmed as a OLED multi-touch display, and is capable of 720p resolution with pixel density of 294.
The Shield will run a pure version of Google Android meaning users will be able to make use of the likes of Gmail and Android's Play Store – giving users a wealth for apps, games and media, as well as Nvidia's own TegraZone game store.
Battery life is reported to be as much as 5-10 hours of gaming or 24 hours of HD video playback via the Shield's 33Wh battery – there's also the welcome inclusion of a micro SD card slot, although Nvidia hasn't actually disclosed just how much internal storage the device has.
One interesting feature Nvidia unveiled is PC cross play over Wi-Fi. According to Nvidia you'll be able to play games from your Steam account, which works in a similar fashion to Sony's PS3/Vita Cross play – to get working you'll need Nvidia's GeForce GTX 650 graphics card and a Wi-Fi connection.
Even more impressive is the Shield is capable of outputting to an HDMI enabled TV so you can play games on the big screen and Nvidia even reckon Shield will be able to output at 4K resolutions.
Nvidia says that Project SHIELD will be out during the second quarter of 2013. No price has yet been confirmed.
Check out the full unveil below.